Another newbie question.
I have a simple hand coded project called Fixer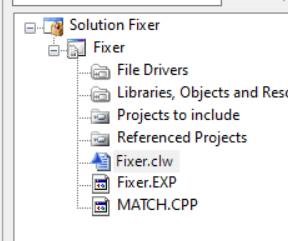 It consists of a single clw file and includes match.cpp from the SHOWIMG example file at SoftVelocity\Clarion10\Examples\SRC\SHOWIMG
Now I want to do some string manipulation using StringTheory. The instructions are:
Using StringTheory in a Hand-Coded Project

To add StringTheory to a hand-coded project (with no APP and hence no Global Extension template) do the following;

Add
include('StringTheory.Inc'),Once
to your main module
Add the StringTheoryLinkMode and StringTheoryDllMode project defines to your project. Set
StringTheoryLinkMode=>1
if the class should be linked into the project, and
StringTheoryDllMode=>1
if the object is exported from another DLL.

You can declare StringTheory objects in your code by simply doing;

str StringTheory
I understand (1.) above and did it. I have no idea about (2.) I don't know what it means, for starters, or where to go in C10 do do it.
Please could someone give me some step-by-step instructions? Maybe by the time I've done them I'll have a better understanding or what I just did.