Hello,
Does anyone have an example of BalloonTips (Tool Tips) implemented in Clarion?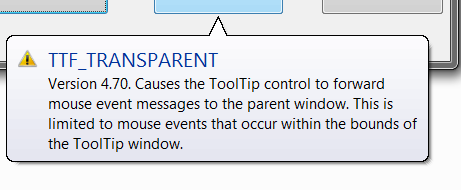 Thanks,
-R
Another 3rd party option is http://www.devuna.com/ToolsForClarion/CoolTips/CoolTips.aspx.
Disclaimer: I don't have a dog in this fight and have never tried any of these products.

Thanks guys, I'll check these out.
XTooltips from Sealsoft http://www.seal-soft.com/ very nice. One warning: it does not like when you have Noyantis Skinframework in your app. Your app will crash. That's a pitty because I certainly would like to add it again to my apps. I have asked both parties but there's no interest.