I'm trying to use the features of the CapeSoft MyTable templates in the "Learning Clarion" ABC application. I have added the required "EncryptionVersion" LONG variable to the Customer table and the Phone table.
In the Customer table I have doubled the length of the text fields, except state, since it's a foreign key lookup field, and added in the External Names as follows: "Company | Encrypted(MyTable)" without the quotes. After creating a new application using the application wizard, I added in the following global extensions:

and I have set the secrets in the MyTables extension as shown in the image.
By changing to Category mode in the main application tree, I have selected "BrowseCustomer" and "SelectCustomer" and added in the MyTableLocalBrowse extension and set the secure tab values:
In the same manner I have added the MyTableLocalForm extension with the same values to the "UpdateCustomer" form.
When I run the application I can edit the data: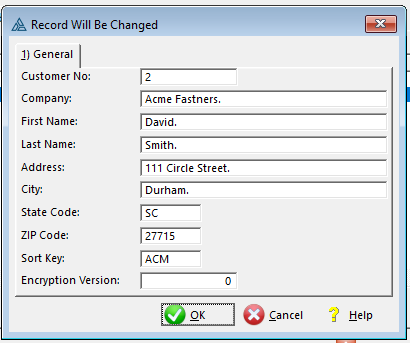 I put a dot at the end of each field and clicked OK.
Looking at the raw data file using topscan the address field did not encrypt, but the others did.
The browse form also shows the data as missing.
I tried adding a new customer record: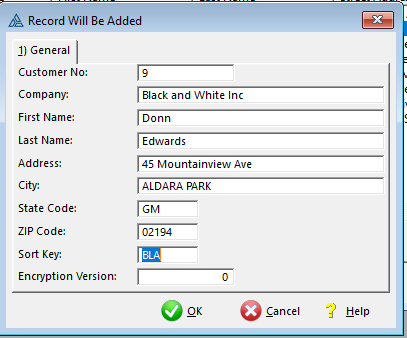 But again, some of the fields are lost once I save the record.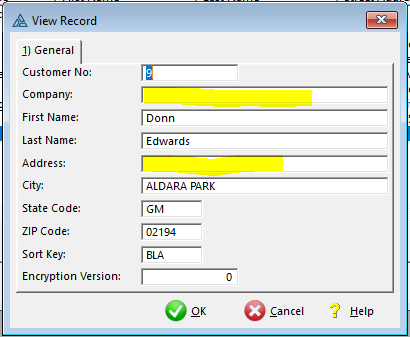 I'm too much of a newbie to figure out what is going wrong. Any suggestions?
Also, how can I automatically create the "sort key" value from the first 3 letters of the company name, instead of having to type it in?
Any advice, suggestions, etc would be most welcome.