Not sure I'm ready for that yet. Maybe it's me, but it seems like these chat bots are mainly designed to make people distill their years of knowledge/experience into questions they think are smart and volunteer those carefully formulated questions to someone unknown entity for free
One of our devs had it write a clarion hello world a few weeks back. I dont know if he tried to compile it. He's had it write several different things - and found it pretty adept as providing a C# class framework, or preparing a process for fixing .
I doubt there is such a thing - but please report back if you find it!
My testing of ChatGPT3 with writing Clarion code showed it basically had no idea about Clarion syntax. And I told it so. This will no doubt change over time - perhaps rapidly.
Hi Richard
I was just using the web interface at https://chat.openai.com/chat
I think you need to set up an account when you first start.
Just to show you I just asked it to write a CRC32 in Clarion. The syntax is all wrong.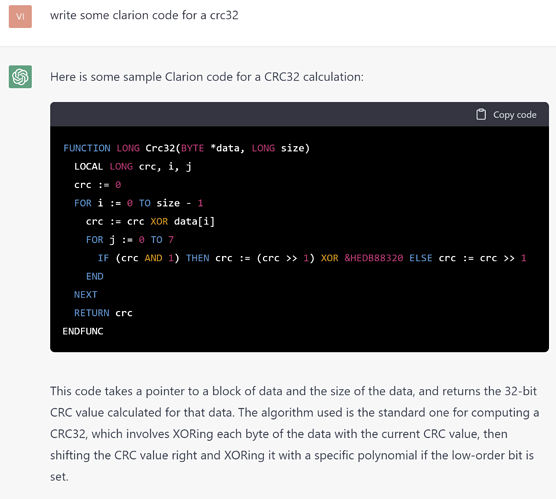 It even gets history wrong:

basically as it is now, in my experience you need to not trust its answers at all.
Again, this may change rapidly as it improves.
this form of assignment comes from Pascal. The Clarion wikipedia article says Clarion is in the Pascal family so I think it has assumed it uses that form of assignment.
well that would be equally wrong

maybe Barington Systems or Bruce Barrington. Topspeed didn't come into the picture until the 90's.
No idea about a codex. The GPT convos by one of our guys was posted in one of the Clarion skypes a few weeks ago.