The Softvelocity sites are down and the domain is listed as available by Godaddy. Does anyone know what is happening?
WhoIs shows SoftVelocity.com got renewed changed today 18:15z about 30 minutes ago.
Maybe changed DNS and it took some time to finish. GoDaddy saw the DNS not working to point to a real website and called it "Parked".
The "store" link on the clarionsharp.com page Mike posted also bombs.
WhoIs lookup says that the domain registration for softvelocity dot com was updated 2022-07-14 14:47:34 UTC.
??Maybe they're switching to a new host or new name servers ??
I think modified, not renewed, Carl.
The registry expiration is listed as 2023-04-30 13:33:23 UTC. Typically a renewal would be for at least a year hence.
I don't use the Newsgroups, so the fact that SoftVelocity is down doesn't really affect me.
But has anyone who is affected tried CALLING SV to make certain they know there is a problem?
Everything related to softvelocity.com is down.

Could it be they just let it expire by accident?
Hi Abdullah - It is not expired. Just changed.
OK, just curious. In this internet-connected age you could try asking what's going on via their twitter or FB page, but I suspect we already know how that'll end up

I tried calling them and everything just goes to voicemail.
What does "just changed" mean?
There are reports on Skype that it's back up for some people (but not me)
Which makes me think it's some sort of DNS propagation issue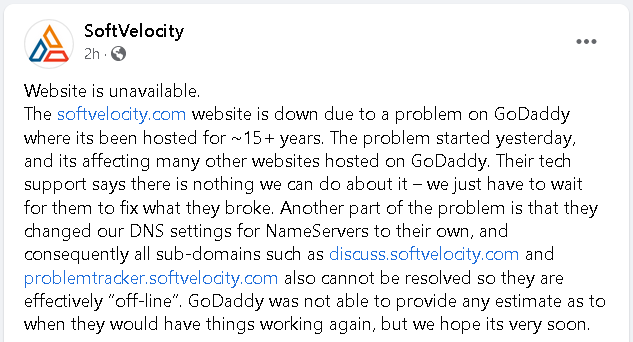 A reminder:
Thou Shalt Not Have Thy Registration Records and DNS Pointers Controlled By Thy Hosting Company.
Just Say No.
It's working again - here at least