I am having an issue with the Clarion 11 IDE and the Window Designer. I have several windows that are large scrollable windows (scroll in frame). When we try and edit these windows using the designer, it will not display the entire window in the designer and will not allow me to drag the bottom of the window down to expose the controls on the bottom of the window. If I try to change the window height in code I get the following error: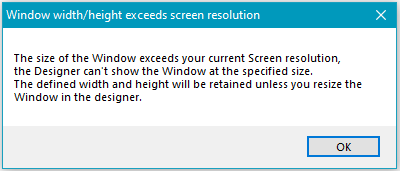 My PC resolution is 1920 x 1080 and my window height is like 600 DLU.
I am currently using Clarion 11.0.13401 which I know is a little behind. Does anyone know if this bug has been fixed or if there is some workaround for this? If it has been fixed, can you tell me what patch version I need to get to allow us to edit these windows?