I am updating my WMS from Clarion version 6 to 10. Finally! It has been a great run using version 6.
The windows below look different. The first window is from my production environment. I put a STOP right after I opened the window and did a DISPLAY too. There is nothing in my code to eliminate the brown color of the SHEET control like the second window below.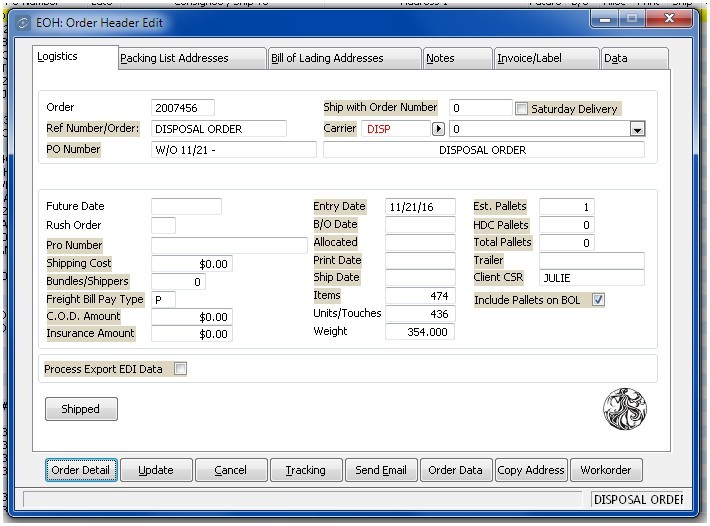 This second window is from my development environment and it looks like it should. But this window is also using version 10 just like the production environment!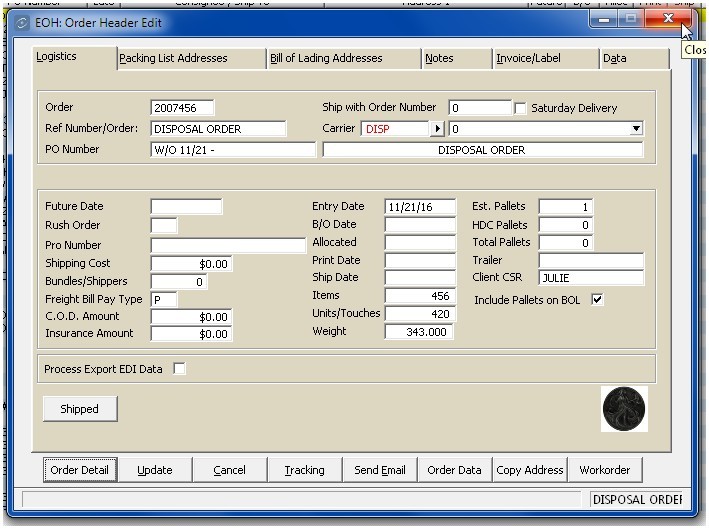 I am scratching my head on this one! My SHEET control code for this window:
EOH WINDOW('EOH: Order Header Edit'),AT(,451,276),CENTER,GRAY,AUTO,SYSTEM, |
ICON('C:\Dev\ICONS\hdc.ico'),STATUS(320,-1),FONT('Tahoma',8,FONT:regular), |
TIMER(100),ALRT(Alt0), ALRT(AltT), ALRT(F12Key)
SHEET,AT(11,4,427,251),USE(?SHEET1),SPREAD,COLOR(0C1D7DDH)
TAB('&Logistics'),USE(?TAB1)
blah, blah, blah…
Is this a Windows 32 bit vs 64 bit issue? We are using Windows Server 2008 R2. Most of our workstations are 64 bit.

I am compiling both versions using Windows 7 - 32 bit. Clarion 6 only worked with 32 bit.

I am not using DLL's. Everything is compiled as local, standalone exes.

Has something in the threading model changed to cause color issues? This windows is called from an APPLICATION.

Could this be a stack issue?
But why does development look correct and production does not! I cannot think of anything that would cause this issue.
THANKS FOR YOU HELP (If you can offer any)!
Best,
Robert