WinMerge is a free compare tool. In the new release 2.16.18 it has a feature that I requested to allow an option to Ignore Numbers.
This report had a new "Units" column inserted so 3 columns had their AT() positions changed. This results in showing 10 changed lines that I don't care about:

Under the toolbar Options button (wrench icon) is a new check item to "Ignore Numbers" in the comparison.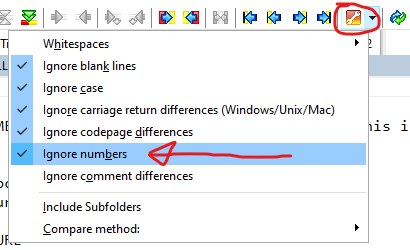 With Ignore Numbers checked my compare now ignores all the lines where only the AT() changed leaving just the 2 new STRING('UNITS'):