Addin: InsertClarionColor
Version: 1.2
Date: Tuesday, 4 June 2013
Description
Insert a clarion color into the text area!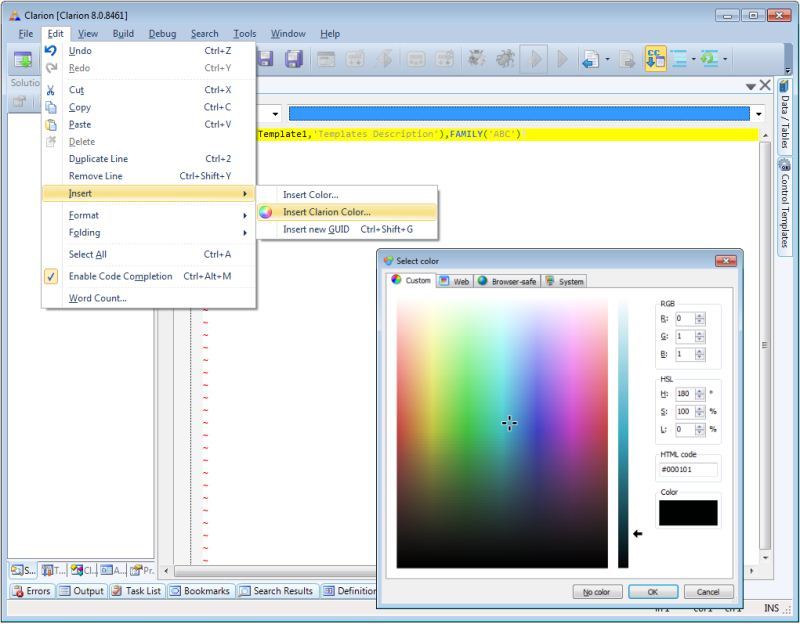 Usage
When you are editing clarion source, use the menu item in Edit --> Insert --> Insert Clarion Color... or the icon on the toolbar to insert a clarion color code.
Features
Advanced color picker for clarion source code.
Converts RGB, HSL and HTML color values to clarion color codes.
Select colors using a large color well or from lists of pre-defined Web, Browser-Safe and System colors.
Pastes directly into the source editor or if there is no editor active then the clarion color code is optionally copied to the clipboard.
Release Notes
Release: 1.2, 04 June 2013
FIX: Minimum size of window now properly fits all controls. Also the anchor of the selected color box has been improved.
FEATURE: Example text added to the selected color box
FEATURE: Dialog window size and position is persisted
Release: 1.1, 31 May 2013
FIX: RGB and HSL calcualtions were a little off as well as the slider cursor position detection.
FEATURE: Added Clarion decimal value as well as hex
FEATURE: Will attempt to use the highlighted text as the selected color when opening the dialog.
Release: 0.8, 25 April 2012
CHANGE: Removed ClarionAddins global addin dependency.
Release: 0.7, 18 April 2012
CHANGE: Now has ClarionAddins global addin dependency.
Release: 0.6, 1 March 2012
FIX: Detection of active text editor now works for clarion window definition editor and is generally improved for other areas.
FIX: Color lists are now docked inside their container correctly
Release: 0.5, 26 February 2012
FIX: Removed trace output from ZetaColorEditor.
Release: 0.4, 19 October 2011
FEATURE: Experimental new addition, the color picker is now available from a Pad. See :menuselection:View --> Tools --> Insert Clarion Color
Release: 0.3, 22 Aug 2011
CHANGE: Toolbar button is now always enabled
FEATURE: Color picker now has a 'Clarion code' entry control which you can use for copy paste of clarion BGR format hex codes.
FEATURE: Color picker now remembers the last selected color.
FEATURE: Returned values are converted to clarion equates where available. This includes system color equates.
FEATURE: If there is no active editor window found a dialog will offering to copy the selected color to the clipboard.
Release: 0.2, 04 June 2011
CHANGE: Preparing for public release of source code. Making the VS project work without dependencies, adding docs, etc
INFO: This project requires the ZetaColorEditor <http://www.codeproject.com/KB/miscctrl/ZetaColorEditor.aspx>_
Release: 0.1, 16 Oct 2010
INFO: Public Release
BLOG: Insert Clarion Color addin <http://www.clarionedge.com/clarion/addins/insert-clarion-color-addin.html>_