To handle the thread drift - new topic


I didn't undertand you. Can you give an example of what you do on C6 F12 that is missing now?
So in C6 window designer when I press F12, I can change the tab order and properties of the controls.
So where there is a dedicated Tab order pad and dedicated properties pad in C11, this is all in one in C6 and when I push F12, it opens up maximised with the column widths how I like it. Besides the tab order pad is temperamental in C11, sometimes I can drag a control up and it goes where it's dropped other times it doesnt and I am aware that the horizontal line move's horizontally to indicate whether its on a tab or not or in a group or not.
So in the screenshot I have select 3 entry fields, on the right side I can see which controls are different because their font has gone italic, I can move those up or down in the tab order using the up and down arrow at the very top, or I could select just one control and change its tab order, and I can also change properties for one or a selection of controls from the same window.
Its nice and spread out, a nice sized font, it just works for me.
In C11, I have two different pads to work with unlike one in C6 and at the moment they pop out as they are tied to the edge of the IDE. In fact I've just tried detaching them and I can get them to popup now, but in the F4 property pad when I select 3 controls I dont see any italic text for the controls which have differences.
Having a maximise button for the pads would be nice so they remember to open maximised and having it open on the monitor the IDE is running on would be nice.
Got 3 monitors here, if I have an IDE open on my main middle monitor which is where my start button etc, then if I do some work on the IDE on my right or left monitor, the pads open on the middle monitor still.
Plus everytime I go into a window, the pads appear so I have to close them down before I can do anything to a control on the window designer. I'm jumping in and out of the window designer for different windows all the time and its just something else thats unnecessary to do. The pads could stay hidden and pop up when the hotkey is pressed.
The mouse wheel doesnt work on the C11 property pad but the mousewheel works on the C6 F12 window (I using Freewheel on C6) FreeWheel (archive.org)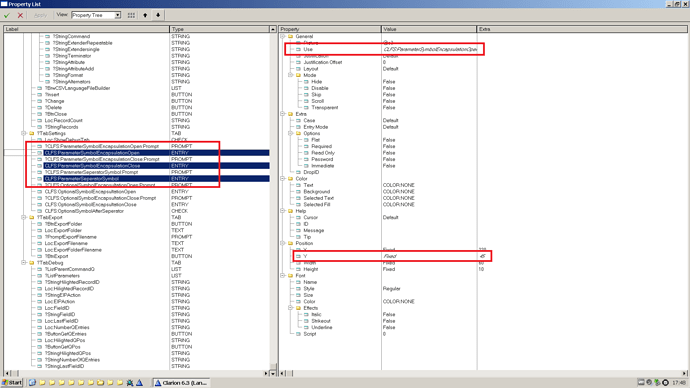 I think thats covered everything.
Edit
One other point, by having the C6 F12 property editor window opening maximised which the property pads cant do, when I close it, these monitors are getting bigger and bigger now which doesnt help, but I just move the mouse up to the top right window and can click the left mouse button to close the window without looking. I cant do that with the C11/Visual Studio property pads, their red close button has a bit of a border around them for start and they dont open maximised and its that which makes it very quick and easy to close with a mouse.