On my GitHub I posted a new class (cbVlbPreview) to enhance Window Preview. I created it to fix problems with LIST controls by using a VLB, then added more.
The Designer Previewer generates a CLW and builds a running EXE. This will be 100% accurate of what you will see at runtime versus the Designer has .Net controls. A LIST can have many modifiers (colors, styles, tree, icons, tips) that the IDE generator does not always handle well or are broken.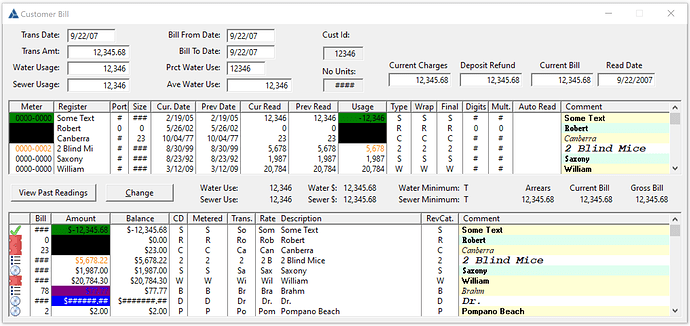 Those ugly distracting colors are used for a Column with Colors … who chose black on black? The Style columns show a mix of colors and fonts. The window produced by my preview is below. For Colored columns my preview simply uses Maroon for all rows, Styles use Green or Teal. (See the next post for how to remove these)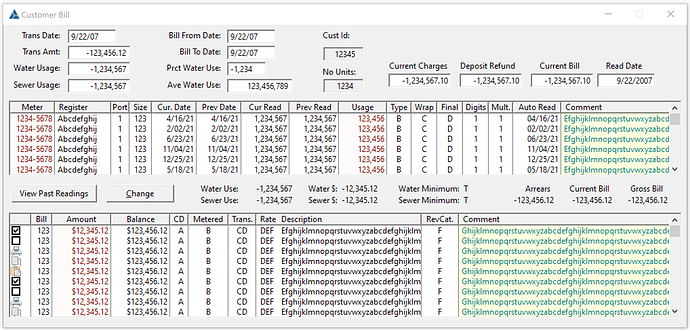 The SV Previewer tries to supply "Sample Data". Many times numbers show ###.## as seen in the first screen capture. I provide what I call "Fit Data" with numbers showing the exact maximum digits 123,456.12 that fit. I handle @P###P and @K###K formats which the SV previewer does not.
For strings I simply supply "Abcdefghijk…" which I find a bit ugly, but it does give an idea of what will fit. See below for how to edit the column data.
The "Fit Data" is also applied to ENTRY, SPIN, COMBO and STRING @N @P @K picture controls. If the picture allows a sign then a negative shows. The 12,345.12 makes it easy to tell if my picture allows the digits I need. The sample number shows the maximum commas possible, the RTL will use those commas spots for digits.
If you want to see the original Clarion Preview window hold down the SHIFT key when you click the preview button, and conttinue to hold it until the preview appears.
To have this enhanced preview download the 7 LibSrc files from this Repo and place them in your Accessory\LibSrc\Win folder. Only the CbVlbPreview.Inc and .Clw files produce this new preview. The CbWndPreview class provides a secret button at the top of the window with many many features.